STEP 1
Slide first comb under style, following the curve of the head.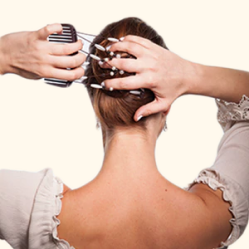 STEP 2
Grab hold of style with all the fingers of the right hand.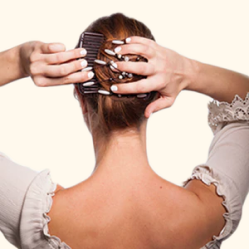 STEP 3
Stretch the second comb over the style with the left hand.
STEP 4
Slide second comb firmly under the first to secure style.
WHAT MAKES COMBY™ SO GREAT?
No more headaches or damage. The combs secure your hair, not the elastic.
Lays flat on your head.
Scientifically designed combs that are lightweight and long-lasting.
Elegant and sophisticated designs to elevate your style.
COMBY™ is perfect for any occasion: Ideal for the beach, the office, or an evening out!
Create versatile hairstyles in seconds: Style a bun, ponytail, half-updo, cascade, or messy bun effortlessly.
Reliable hold all day long!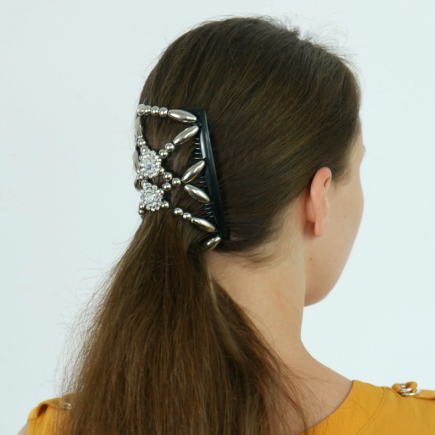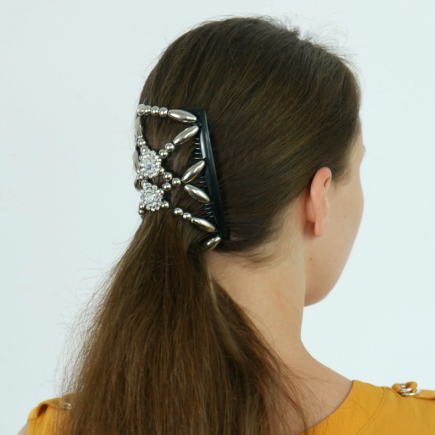 Unlock the Magic of COMBY™ Hair Clips
Introducing our exclusive collection of handcrafted luxury COMBY™ hair clips, meticulously designed by a family business with a rich heritage in creating top-quality hair accessories since 2007.
Experience ultimate convenience with these unique combs that require no additional accessories and promise a secure grip that stays in place ALL DAY LONG, even during your exercise class.
Effortlessly adapt to any occasion with our versatile casual and dressy styles that cater to your lifestyle.
Our easy-to-use combs provide time-saving options for styling your hair like never before, making every day a great hair day!
SHOP NOW
testimonials !
Excellent - I now have 4 of these combs. I love them. They look great. I work in a factory and they hold your hair all day long. LOVE them. Thank You.

Christine P.
Fantastic - I love the comb I bought. It is nothing like the cheap stuff you see on TV. These combs are sturdy and large enough for huge chunks of hair. I can't begin to tell how easy it is to use.

Julia R.
Great Product – These combs are the absolute best! I have tried others. These stay put without pulling on my hair. The variety of colors and combs are unmatched.

Delphine T.
FREE WORLDWIDE SHIPPING ON ALL ORDERS OVER $50
EASY RETURN WITH 30 DAYS MONEY BACK GUARANTEE